Buy Strattera Online
Showing all 7 results

Strattera is a doctor's prescribed selective norepinephrine reuptake inhibitor used to treat Attention Deficit Hyperactivity Disorder. It works by affecting the chemicals present in nerves and the brain. This medicine is only approved for someone who is above 6 years old.
Before Taking Strattera
If you have used MAO inhibitors including methylene blue injection, isocarboxazid, rasagiline, selegiline, phenelzine, linezolid, and tranylcypromine in the last 14 days then avoid taking this medicine.
If you are allergic to atomoxetine or you are suffering from,
narrow-angle glaucoma
severe heart problem
blood vessel problems
Pheochromocytoma
high blood pressure
family history of sudden death
then inform your doctor before taking the medicine. Strattera caused stock and death in some cases, so make sure to tell your doctor if any one  of your family has had,
Mental illness
Depression
Bipolar disorder
Liver disease
History of alcohol abuse
If you are pregnant or planning to have a baby then tell your doctor. Do not breastfeed if you are taking this medicine. It can affect the baby. Ask the doctor for all probable risks.
How should I take Strattera?
Take the medicine as directed by your doctor. Never take smaller or larger doses without recommended. Read the prescription carefully before buying medicine, follow the guide and instruction sheet provided with the medicine.
You can take the medicine with or without food once or twice in the morning and another in the afternoon. Always follow your doctor's advice. Always take the tablet at the same time each day. Take it with a glass of water.
Never chew, break, crush or mix with other things. Never use it by injecting it into your vein. Swallow the whole tablet. If you are facing any problems contact your doctor.
Get a refill before you rush out of medicine. Use it regularly without missing to get good results.
If you get broken medicine, never use it. Dispose of it safely, or it would be dangerous if it fell in your eyes. If it happens, wash your eyes with water, and talk with a doctor or pharmacist about how to handle it.
You need to do regular checkups of your blood pressure, heart rate, weight, and height.
Misuse can lead to death. So keep the medicine away from children and others. Do not share the medicine without a prescription.
Doses of Strattera
There are seven different doses of Strattera. Strattera 10 mg, Strattera 18 mg, Strattera 25 mg, Strattera 40 mg, Strattera 60 mg, Strattera 80 mg and Strattera 100 mg. They all are differently used in different cases. The doctor will prescribe you the best dose after examining you. Never take larger doses than recommended.
Alternatives of Strattera are-
Side Effects
Side effects of this medicine could be short-term as well as long-term.
If you have symptoms of allergies like hives, swelling of the face, difficulty in breathing or,
Signs of psychosis- hallucination, paranoia, seeing things that are not real, aggression, hostility, new behavioral problems,
Sign of heart problem- difficulty in breathing, chest pain
Liver problems like jaundice, itching, stomach pain, flu-like symptoms, dark urine
Painful erection
Difficult urination
Call the emergency helpline immediately.
Some common side effects are,
Dizziness
Weight loss
Nausea
Dry mouth
Constipation
Decreased appetite
Problem in sleeping
Menstrual cramps
Sexual problem
Allergic reaction
Mood swings
Insomnia
Feeling tired
Increased sweating
Urination problem
Vomiting
Upset stomach
Some side effects that are shown in children are-
Difficulty in sleeping
Upset stomach
Dizziness
Mood swings
Tiredness
Flu-like symptoms
If the child is not growing on a regular basis talk with your doctor.
Warning
You should not use this medicine if you have taken MAOs (linezolid, methylene blue injection, phenelzine, isocarboxazid, or tranylcypromine) in the last 14 days.
This medicine should not be used by children under 6 years.
People who are suffering from narrow-angle glaucoma, heart disease, high blood pressure, coronary artery disease, or adrenal gland tumor should not use this medicine.
This medicine has caused sudden death, stock, or heart attack in some cases who had heart disease. So be careful before using it, if you have any heart problems.
Keep this medicine away from children or someone with a history of drug abuse, do not share this medicine without permission. It may cause death
Do not chew, crush or break the medicine, never mix it with others to inject it into a vein.
Used, expired or broken tables should be disposed of carefully. Ask the doctor or pharmacist where to discard it.
Pregnant ladies should not use this medicine without informing the doctor.
Misuse of Strattera can cause side effects, addiction ad death.
Selling and buying Strattera without permission is against the law.
Do not use the broken medicine, it will harmful if it mistakenly fell into your eyes.
How to Store
Store this medicine in an airtight container, at room temperature away from heat, moisture, and rain. Make sure children and others should not get it. Dispose of the used tablet or liquid bottle carefully.
Food and Drug Interaction
Tell your doctor about your continuing medications. Medicines that could cause problems if they get mixed with Strattera are,
blood pressure medicine
an antidepressant
asthma medication
a cold or allergy medicine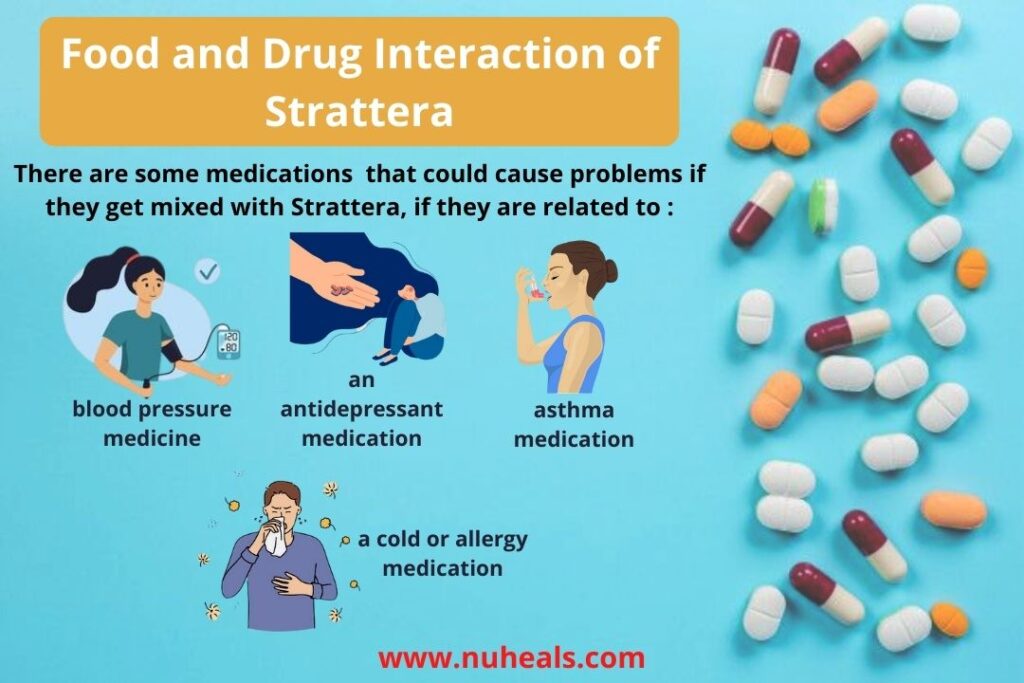 What should You Avoid
Do not take other medicines while you are taking Strattera without your doctor's permission. Do not use the medicine if you are pregnant or breastfeeding. Avoid drinking alcohol while you are taking Strattera. Do not do risky work until you know how the medicine will affect you. Do not use broken capsules.
Missed & OverDose
Missed Dose:
Take the missed dose with or without food as soon as possible. If it is already time for the next dose then skip the missed one.
Never take both doses at the same time.
Overdose: 
Overdose symptoms may include muscle panic, tremors, stomach pain, vomiting, depression, dizziness, and unusual behaviors. In case of overdose call the poison control center.
FAQ
How should I take Strattera?
You can take Strattera with or without food. Basically one in the morning and if your doctor has prescribed you two, then take it in the afternoon. Swallow the medicine with a glass of water. Never crush, chew or break or inject it in a vein.
What could be the side effects of Strattera?
Side effects may continue in the long term and may for the short term. Some common side effects are upset stomach, dizziness, nausea, stomach cramps, constipation, difficult erection, and difficulty sleeping. Some serious side effects are hallucination, paranoia, seeing things that are not real, aggression, hostility, new behavioral problems, jaundice, itching, stomach pain, flu-like symptoms, and dark urine.
How to get a prescribed Strattera online?
It is not so difficult to get a prescription online. Do the research and book an appointment with a doctor who can solve your problem. Talk to them, tell them all your symptoms, and share your problem, after listening to you, let them prescribe you the best dose which will help you. Do as said by your doctor. You can get the medicine online as well as from offline stores. Check the expiry date before buying the medicine.
Is it legal to buy Strattera?
Yes, you can buy Strattera online as well as from offline stores by showing your doctor's prescription. Without a prescription, no one is permitted to sell or buy Dexedrine. It is against the law. The price will differ in offline and online stores. Make sure to buy medicine from trusted stores. Check the expiry date before buying the medicine.